As one of the most popular places to go hunting in South Texas, 4 Amigos Ranch is proud to offer a diverse selection of hunting packages for outdoor enthusiasts of all ages and experience levels. Whether you choose one of our popular ram or hog hunts, or something more exotic including our Nilgai or Night Vision hunting packages, we go to great lengths to make sure that your time here is the very best it can be.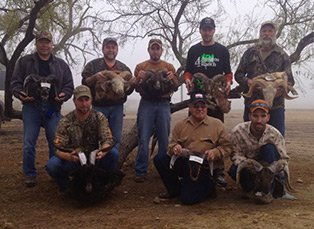 Read testimonials from guests of 4 Amigos Ranch, and hear what others are saying about the quality of our South Texas hunting packages.

For more information on any of the hunting packages we offer, as well as details on lodging, frequently asked questions, or directions to our property in Eagle Pass, TX get in touch with the 4 Amigos Ranch staff by phone or email and we'll be happy to answer your questions or assist you with making a reservation.
Non-hunting guests are welcome for $400 per person, with prices subject to change.